This year at #LT22UK exhibition eXact learning solutions has shared its latest innovations in content management and interactive course creation.
New trends worldwide
With advances in learning technology and globalization, today's content ecosystem is supported by different learning technologies tools such us Authoring, Content Management and Delivery. The system has therefore become more complex than before, but the content that is produced through it is more interactive, user-friendly and effective.
Indeed, eXact learning solutions has recently worked on updating the functionalities of the Project Management (PM) and Digital Repository (DR) modules, representing the core functionality of a Learning Technology Ecosystem. But it also created the new authoring tool GIOTTO for fast and easy content creation.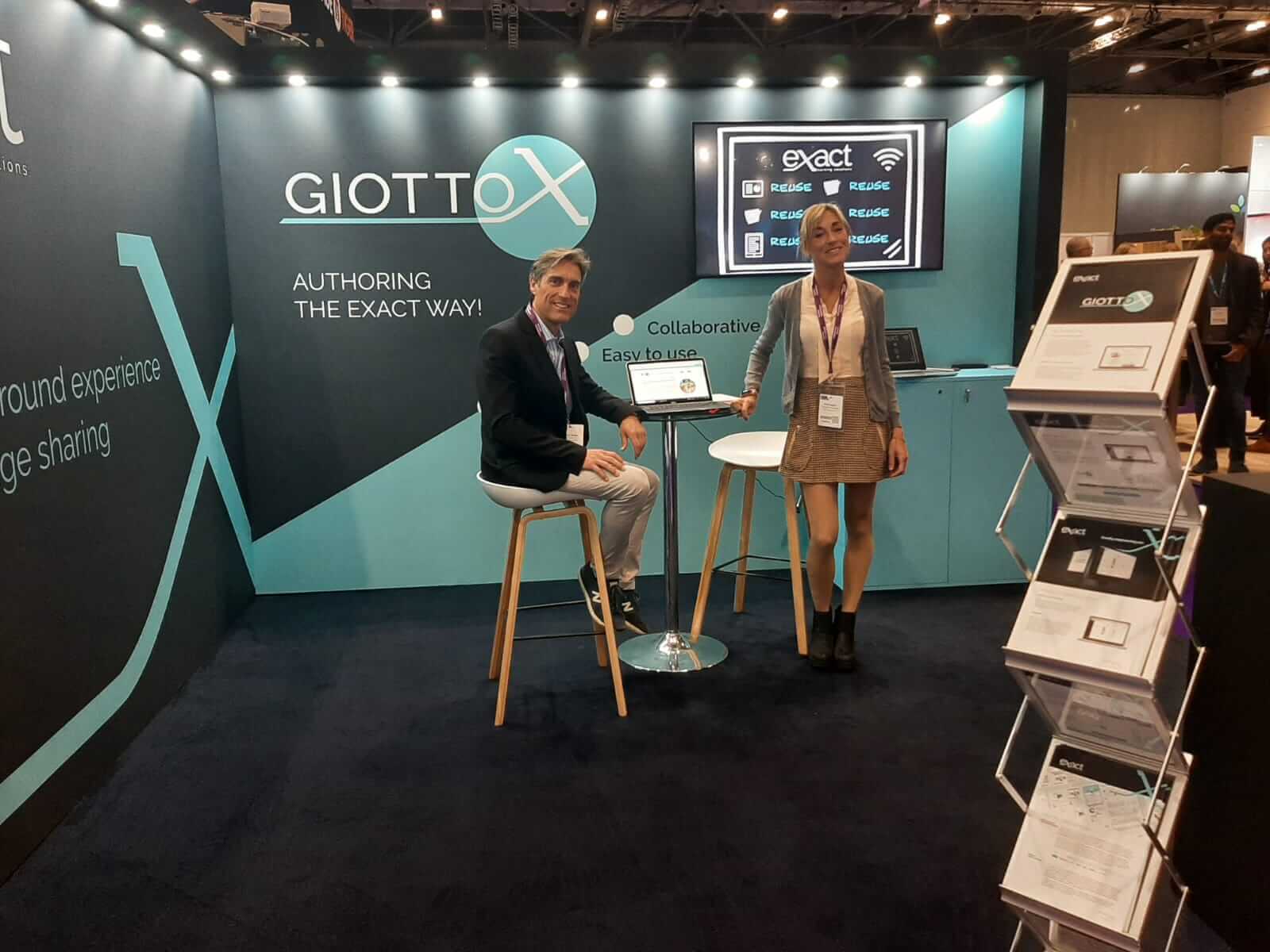 Project Management Tool: what's new?
The PM module has been strengthened in response to the need of a centralised storage and management of all content. Indeed, in the new version the focus on content appears most central: it is possible to launch specific workflows on each 'content component' of a project. 
Moreover, a new improved User Interface (UI) complements a greater User Experience (UX). And finally, thanks to the native integration with Kibana, the user will be able to get personalised insights of his desired data. 
And so much more:
MANAGE your team, materials and tasks in one platform
ORGANIZE your work with personalized workflow templates
MONITOR your tasks deadlines, status and dependencies
REPORT on project's activities and outcomes
Archive, index, save and share your contents
With the new Digital Repository features users can take advantage of a brand new search screen and improved results visualization. In particular, the basic search engine has been improved offering enhanced options to the user for searching contents. 
The new functions aim to make the user's process simpler and more user-friendly: searching for single asset, undertaking rapid editing of them and re-formatting them for re-use in multiple-courses.
And more:
Store, share and index ALL YOUR CONTENTS in any formats
Catalogue, retrieve and reuse your content thanks to a CONFIGURABLE SEARCH ENGINE
Easily monitor and manage your activities through the CARDS VIEW
Last, but not least…
The most recent of the innovations that eXact learning solutions has launched is GIOTTO, the all-round Authoring Tool that aims to create attractive content providing a more personalized experience. With GIOTTO it is possible to produce responsive documents, easily accessed via Web from PC or mobile devices.
Thanks to templates, GIOTTO gives the opportunity to "customise" your documents or content in response to your own creative needs. The WYSIWYG editor of GIOTTO optimizes and simplifies the creation of training content by allowing you to edit the content and immediately see how it looks on any device.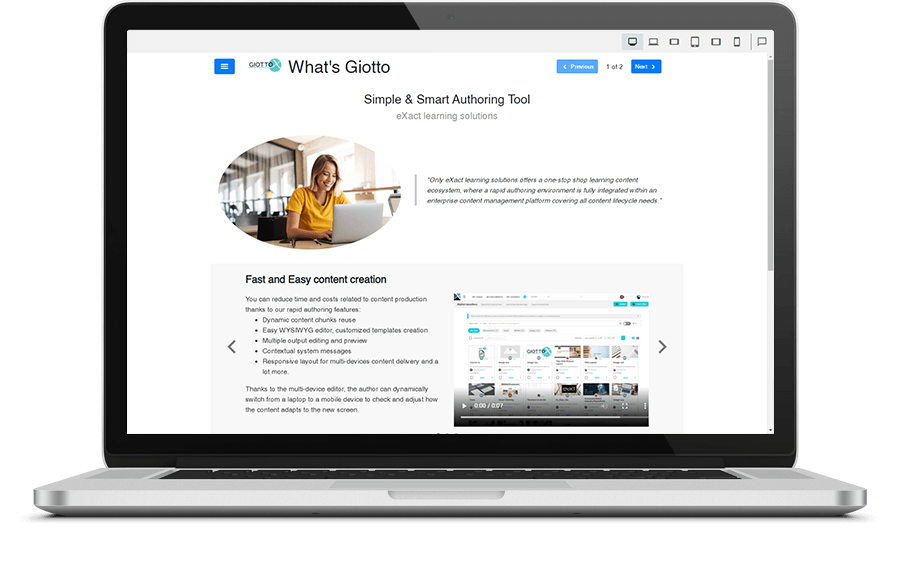 LCMS 4.0 and GIOTTO carry within them the latest trends researched by companies and users approaching content creation or fruition: highly-personalized experience of both learning and non-learning contents and utilization of the LCMS workflow capabilities for effective knowledge transmission.
Get in touch
For additional information or to request a demo, please don't hesitate to email us!