eXact learning solutions is releasing new Digital Repository features, within its Learning Content Management System (LCMS). Clients can take advantage of a brand new search screen and improved results visualization. These innovations will vastly increase workflow efficiency for users.
Let's explore these new features!
Easily find what you are looking for
Searching for learning objects and content is vastly improved and strengthened with the new iteration that eXact learning solutions is releasing with the new Digital Repository Module.
In particular, the Basic search engine has been improved, now offering enhanced options that allows users to:
a. define if typed keywords should be linked;
b. suggest where and how typed keywords should be searched, within the Digital Repository;
c. use the AND/OR, contains, start with, end with, equal to operators; and
d. users are given the ability to switch off the 'Full Text Search' mode, to look for typed words on package ID and the title field only.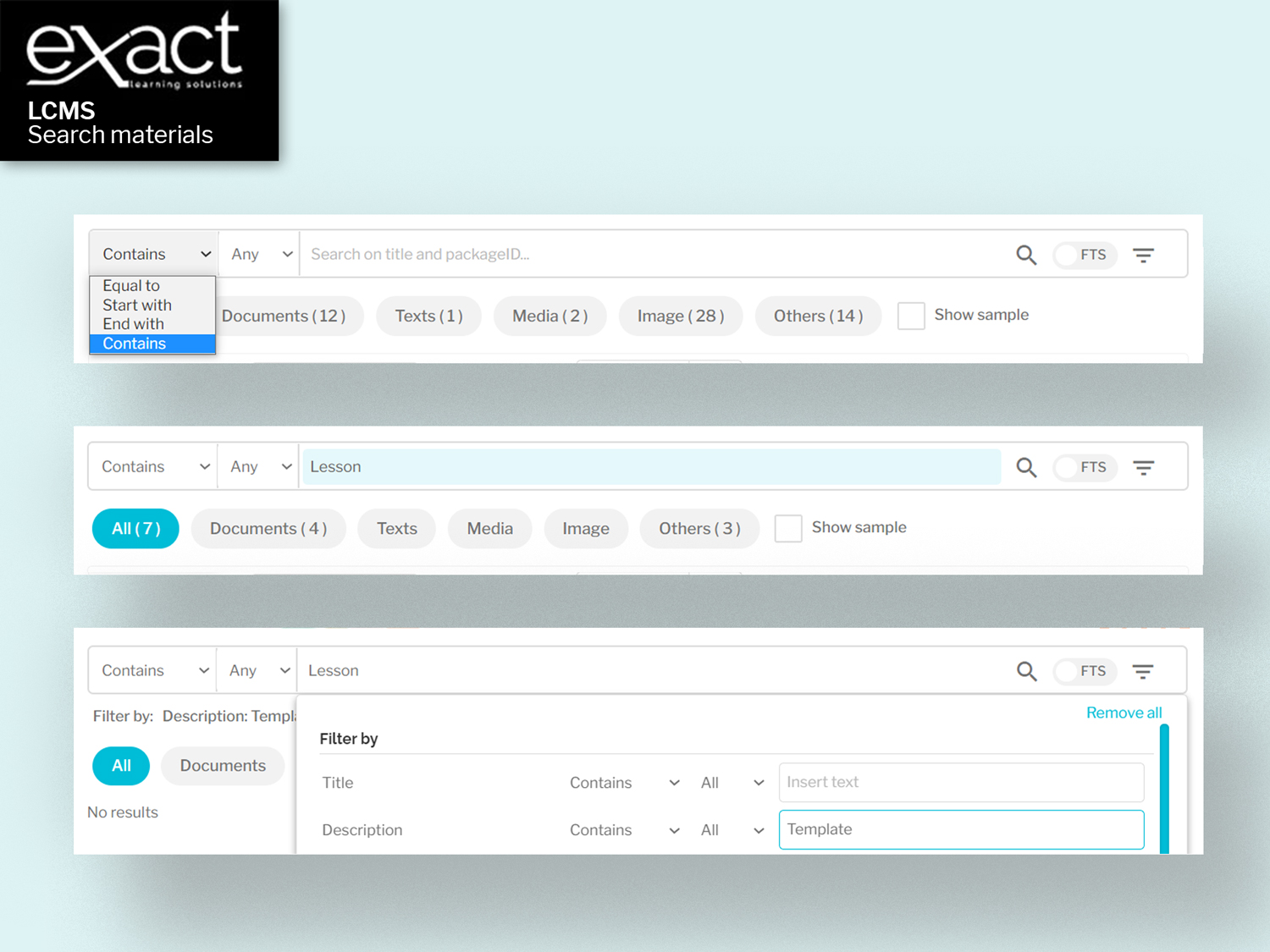 New DR Module – Basic search engine
The LCMS ingests legacy materials (combined with all of their associated resources), while indexing and storing these in a centralized repository. This enables users and organizations to store each, single, granular asset and easily be able to search for them, undertake rapid editing of them and re-format them for re-use in multiple-courses. Indeed, users are able to enter a Digital Repository screen and go through all of their stored materials, including content chunks and old versions of documents.
With the new Module users have the option to look for and find specific materials to work on without having to look at chunks and old versions. This new approach enhances both search engine performance efficiency. Of course, chunks are still available inside the authoring tool for reuse purposes. Additionally, there is an option to hide (or unhide) old versions to foster a better 'reuse approach'.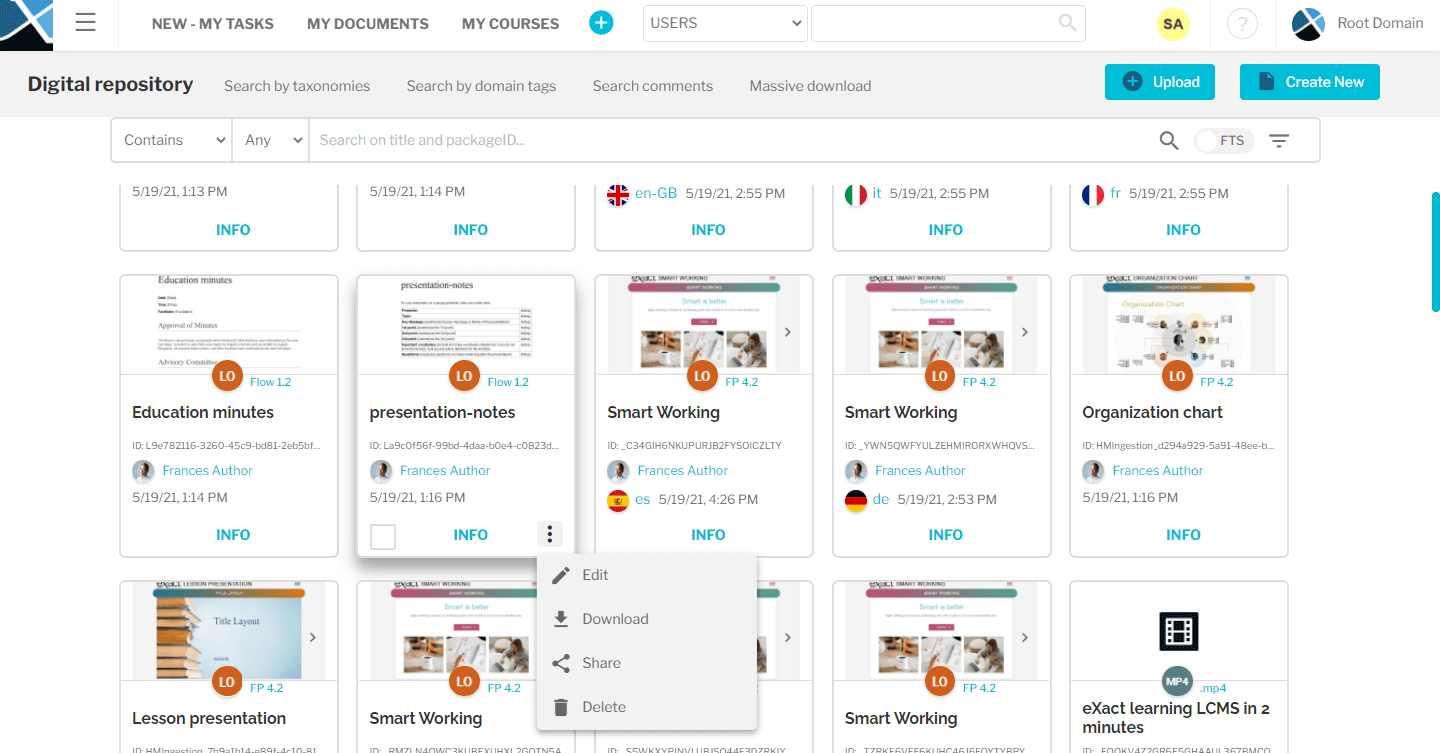 New DR Module – Menu view
A new Visualization makes everything better!
In addition, eXact learning solutions has improved its Digital Repository Module by giving users a better visualization of search results. Cards have been revised as well, to focus refined and more relevant results. Specifically, new functionality is now in place, and a new grid view has been introduced to provide a richer and more compact results list.
Among the key improvements is the possibility to click on a card itself to get more information about a selected material, without completely exiting from the results list.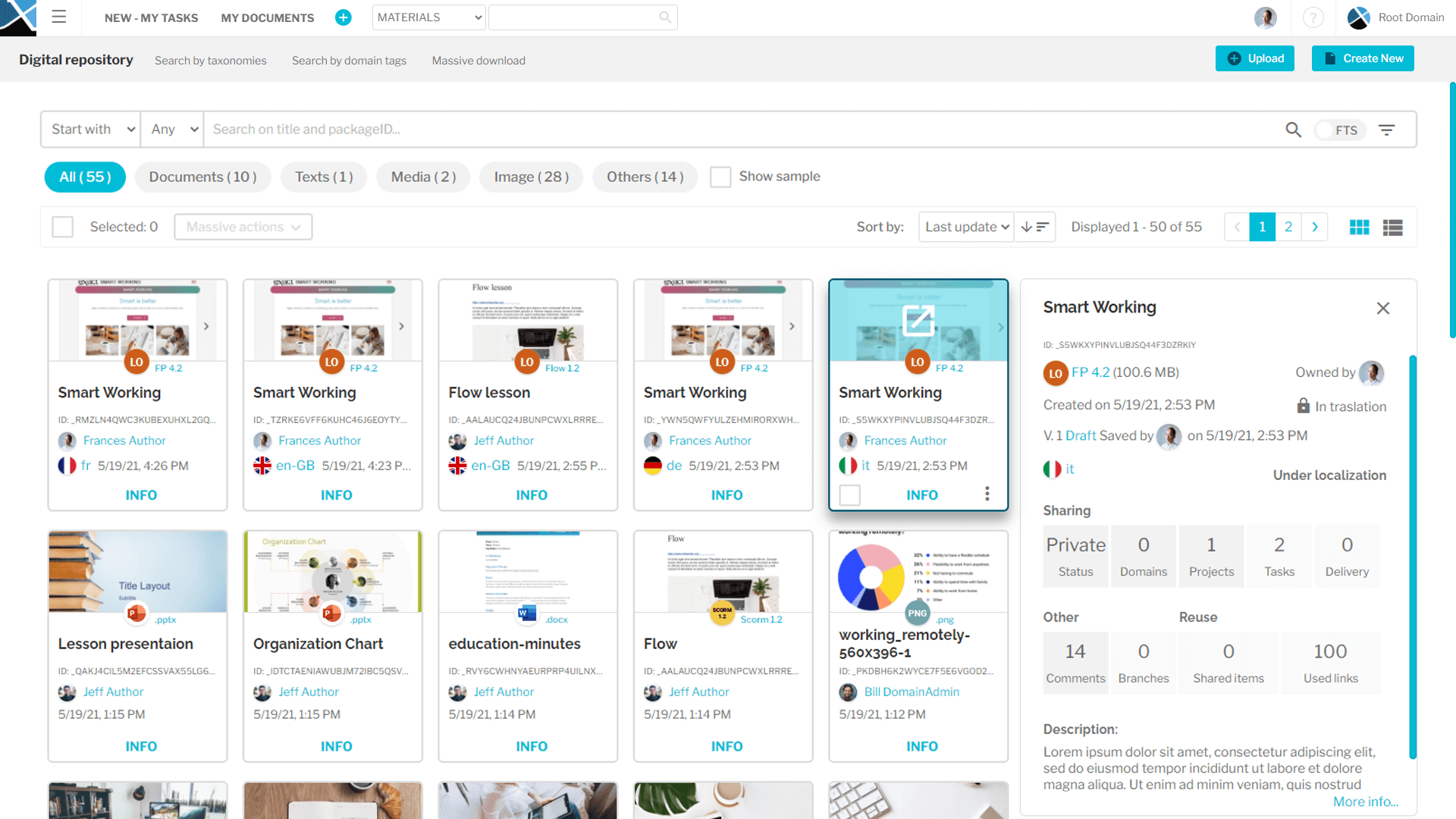 To find out more about our award-winning, scalable, Learning Content Management System (LCMS) get in touch.
For a free demo or more information of our Project Management and workflow functionality, as well as our other "all-in-one" solution features, such as our award-winning authoring, digital repository, delivery and informal content suite then get in touch.