eXact learning solutions' Learning Content Management System is a professional software solution for authors, teams and organizations to create, manage, review and deliver content.
The LCMS simplifies and accelerate digital content development and review by offering a single environment to gather, share and address feedback on all LCMS's contents.
Easily Connect with anyone
Giving and providing feedback is as valuable as ever for your project to work successfully. For this reason, eXact learning solutions LCMS helps you review your content online easily: you are able to collaborate with anyone, reducing times and costs by enabling simultaneous editing.
In addition, your team can contribute to your project by giving separate feedback or give all feedback at once, so you know exactly what changes to make and address items one at a time.
View and Resolve comments
With eXact learning solutions LCMS it's easier to view your team's comments and then reply as threaded conversations. View, collect and share feedback on content all in one simple way.
You are able to see all related comments and responses in one place: once addressed or no longer relevant you can easily resolve them by one simple click.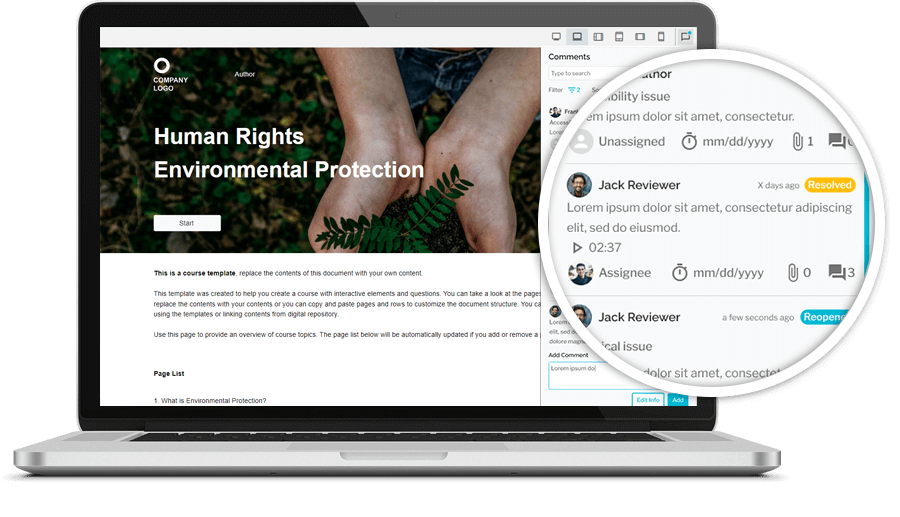 Keep your Team in the loop
With eXact learning solutions LCMS you'll always stay in sync with anyone.
Gather consolidated feedback throughout your project, track and manage the many versions of your content and show your team the latest one where you resolved comments after making changes.
Ready to start your demo?
eXact learning solutions LCMS is all you need to achieve digital transformation in the way you re-use, author, manage, review and deliver your digital content.
For additional information or to request a demo, please don't hesitate to get in touch!