It's that time of year again and polls are now open to vote for eXact at The Best of Elearning! 2015 Awards. Now in its 11th year, Elearning! Magazine allows eLearning professionals to nominate elearning products and services each year. Readers and users of elearning solutions can nominate and vote for solutions across 27 different categories until October 15, 2015 and The Best of Elearning! Awards 2015 will be honored at the Enterprise Learning! Conference & Expo in early fall.
If you have one minute to spare, please click on the link below to vote for eXact learning solutions at the Elearning Awards in category #3: Best Learning Content Management System (All Platforms)
Here's all you need to do:
1. Click on the "vote now" link below
2. Fill in category #3 as we've done in the image below and say why eXact learning LCMS is the best solution in the industry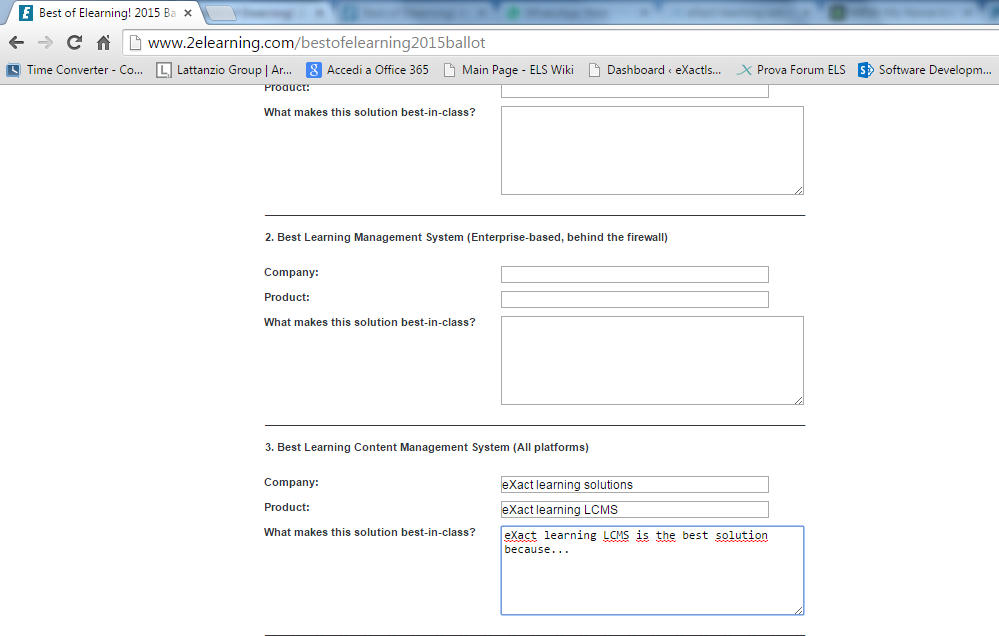 3. Scroll down the page, fill in your details and click submit!
And here's why your vote matters to us
"In a recent survey, more than 85% of respondents have personally recommended an e-learning solution to a peer over the last 12 months. And, 61% agreed that award-recognition impacted their decision to consider or purchase from the vendor. The Elearning! Awards program formalizes this process by publishing the recommendations of e-learning users and honoring "Best-in-Class" solutions." ~ ELearning! Magazine
Thank you from the team at eXact learning solutions!