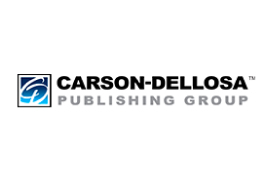 Changing end user requirements, propelled by swiftly changing technology trends, such as mobile devices, meant that Carson-Dellosa had to rapidly adopt digital technologies for more cost effective and agile content production for both print and digital formats. At that time of adoption, all digital production was outsourced because the company lacked necessary infrastructure or processes to create and reuse digital content. The result was long and expensive development times, no ownership of unique technical intellectual property, and no synergy or efficiency across related marketing, editorial, and design processes.
"Our goal is to create a great educational experience for our users within the ecosystem of their choosing (be it print or digital) and personalize that experience as ecosystems – such as mobile app and eBook platforms evolve. Internally, we want to produce and market content as efficiently, cost effectively, and quickly as we can," said Steve Griffin, the company's Chief Technology and Digital Officer.
Solution
The company chose eXact learning solutions to be the foundation of its digital content infrastructure, providing digital asset management and educational content authoring and deployment.
"We selected eXact learning solutions because it was the best at doing what very, very few enterprise LCMS packages can do," said Griffin. "It's flexible, enterprise scalable and able to be integrated with other systems via powerful application programming interfaces (API). It supports content reuse and is customizable without creating costly system upgrade dependencies. No other LCMS had those features as well as proven large-scale deployments. Particularly noteworthy was the ability to change the authoring environment to create highly efficient authoring processes for custom types of print and digital products. Having worked with many of the top LMS/LCMS systems for more than 20 years, in my experience no other LCMS can deliver this combination of features. The investment in eXact learning solutions has enabled significant business improvements and has provided significant value to our shareholders."
Editorial ROI
All editorial manuscripts are now stored within the eXact learning LCMS, allowing the team to take advantage of the system's versioning capabilities. These versioning features proved especially useful in enabling Carson-Dellosa's Editorial teams to track and go back to earlier versions of manuscripts, as needed.
Editorial times were reduced through ready access to projects via the repository for internal and freelance staff. Although, impacting print product process was not a key factor in selecting eXact learning, a number of opportunities have since been identified to speed common content development via custom WYSIWYG authoring templates.
"Because eXact learning's authoring and template architecture is flexible, we will be able to make these customizations without negatively impacting our upgrade path to new versions of the platform." said Griffin. Editorial also utilizes the system's commenting and review features. These features allow the editorial team to work seamlessly with the digital products team to quickly and efficiently review, provide feedback, and approve eBooks and other digital products for distribution.
Art, Design ROI
The company had over five terabytes of digital assets spread across thousands of products. In the past, these assets were stored in a hierarchical file folder structure on a server. Finding information could be challenging and time-consuming. With those assets now in the eXact Learning Repository, the collection can be searched via full-text and metadata, making reuse of assets more timely and reducing the number of duplicate assets being stored.
The company also worked with eXact learning to modify the platform's asset upload process so that a single zip archive could be uploaded into the eXact learning LCMS.
The system would then expand and apply common metadata to all assets contained in the archive. As a result, a packaged InDesign project that may comprise several hundred linked digital assets, can in one upload operation store all of these files as discreet, individual assets and have common metadata automatically assigned to each asset.
The system was also customized to automatically extract metadata attributes contained within a digital asset's document properties. Thus, key attributes such as an asset's color mode, format, and canvas size can now be easily searched and referenced with no additional manual tagging required.
Marketing, Sales Support ROI
Using the eXact learning LCMS has helped Carson-Dellosa gain control over its large collection of product images that are used in marketing its products in catalogs and websites. The latest version of a product's image is always readily available to staff and applications that query the eXact Learning Repository via a program interface.
With the eXact Learning Repository providing the latest marketing image on demand via its application programming interface, the company created a web-based image processing application that allows internal Marketing and Sales users to select products and automatically produce images to the format, size, color mode, and naming conventions required by a specific retailer or channel.
"We intend to extend this capability to our independent retailers so that they can quickly and easily format our product images for their website and print-based marketing needs," said Leah Sprague, the company's Vice President of Marketing.
Achievements
The eXact Learning Repository and authoring environment has enabled Carson-Dellosa to gain control over a vast collection of assets and positioned it to achieve operational efficiencies across its print and digital product development and marketing processes.
Let's Try! Get Free Support
Request a demo
Do you have any questions?