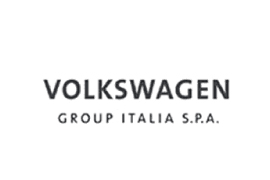 Volkswagen Group Italia based in Verona is a fully owned Italian subsidiary of the Volkswagen Group, distributing Volkswagen, Škoda, Audi and SEAT motor vehicles, as well as Volkswagen Commercial Vehicles. The group has more than 870 employees and over 1,300 dealers and service partners. Specific training, aimed at improving selling expertise and service quality, is designed for more than 15,000 workers within dealerships and with service partners.
Volkswagen Group Italia has the long-term objective of broadening its dealership network, which will increase the overall number of participants that require training. Furthermore, the continued increase in the number of car models, the technological complexity of products, and the importance of maintaining high quality standards necessitates rapid and effective training of employee, dealers and service partners.
To face these training needs, Volkswagen Group Italia has implemented a blended learning approach, which aims to increase the availability of training courses, reduce the need for face-to-face training, and consequently, decreasing "time-to-training" for both new models and technical innovation.
Improvement of overall training efficiency will reduce training costs (travel and time), and in turn increase the overall productivity of the organization. The blended learning approach addresses individual training needs by defining key competency and skill gaps. Based on this analysis, tailor-made training programs are designed to develop these key competencies.
Solution
The cooperation started in 2005 when Volkswagen Group Italia selected eXact learning solutions (formerly Giunti Labs) as their provider for the development and the consolidation of its internal eLearning project and eXact LCMS was adopted for the eLearning program implementation.
Volkswagen Group Italia needed to create a multi-domain portal, which could be fully integrated with the dealer portal, the dealer database and the employees' portal. The aim was to achieve full integration for "single sign-on" with the company's application for the face-to-face training activities. Multi-delivery options (CD Rom/ Mobile/ Smartphone/ wearable PC, etc.) were also required to give the dealers and service partners full flexibility in their access to learning material.
Advanced user-performance tracking functionalities within the platform, as well as skills management options for the planning of individual-learning programs was fundamental. Learning Object-based content production architecture and compliance with the main eLearning standards guaranteed that the adopted solution would be future proof.
Essentially, the customized eXact LCMS solution would allow Volkswagen Group Italia to organize all its learning content into a single content management system and digital repository. The legacy content was transferred into the system and tagged with a SCORM-based metadata and taxonomies framework.
Using this approach would allow Volkswagen Group Italia to seamlessly manipulate and reuse content between different formats and create different deliveries of the same content from a single source.
Achievements
There are 11,000 registered users in the learning portal, which represents 75% of Volkswagen Group Italia's employees. The eLearning programs have resulted in significant savings in travel time and cost, since part of the face-to-face training sessions have been replaced by eLearning. Furthermore, the face-to-face training approach has resulted in higher quality and passing rates since participants now complete eLearning courses and tests before joining the face-to-face training sessions. This increased level of participants' knowledge improves overall performance and assists Volkswagen Group Italia in maintaining its high quality standards. In 2008 eXact learning solutions (formerly Giunti Labs) and Volkswagen Group Italia were awarded the Platinum IMS Learning Impact Award for the implementation of their eLearning solution.
Client
Volkswagen Group Italia
Let's Try! Get Free Support
Request a demo
Do you have any questions?